Spring has arrived and we are supercharged for a bumper season in the property world. Dwelling values have been creeping up in many markets and auction clearance rates have been higher recently too. Interest rate reductions and changed lending rules have fuelled increased buyer activity, though stock volumes remain low. Overall, the housing recovery looks set to continue.
Interest rate news
At its September meeting, the Reserve Bank of Australia (RBA) decided to leave the official cash rate on hold at 1% pa. The move follows rate cuts in June and July.
While this month's decision was widely anticipated, economists say there could be more cuts by the end of the year, potentially starting in October. Recently we've seen some lenders slash fixed interest rates on both owner-occupier and investor loans.
Given rates are on the move, now is the time to review your finance. It may even be worth considering fixing your home loan – speak to us about your options!
Home value movements
Property prices are continuing to rise, up 1.03% across the combined 5 capital cities in August. Prices in Sydney and Melbourne continue to trend higher. Sydney recorded a month-on-month change of 1.57%, while Melbourne's property values grew by 1.40%. In Canberra, prices increased by 0.79%, while in Hobart they rose by 0.51%. Brisbane saw modest growth (0.2%), while Perth and Adelaide experienced falls of 0.51% and 0.24% respectively.
In recent weeks, we've seen auction clearance rates soar in many markets. In fact, auctions across Australia's capital cities reached a two-year high in August.
Property market activity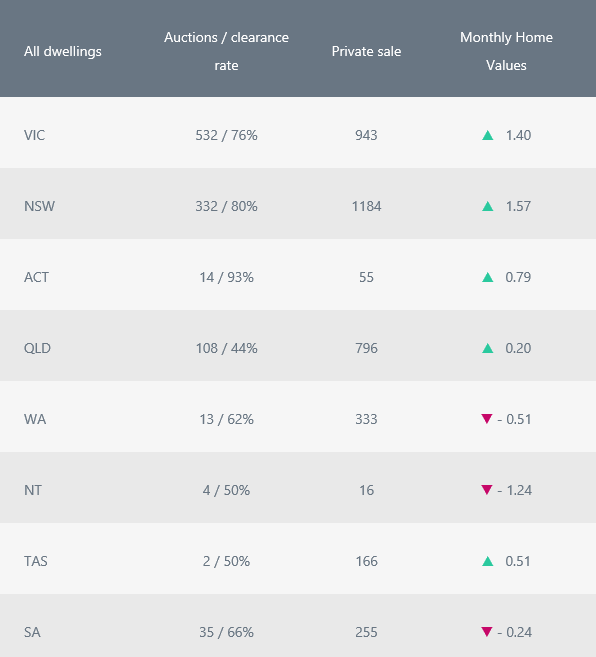 Ready for a spring property purchase?
If you're considering buying this spring, speak to us about organising your finance. Given that stock volumes are low, there's bound to be strong competition amongst buyers, but having pre-approval in place may give you a competitive edge. Get in touch today so we can get it sorted!
Do you know what happened after the Reserve Bank cut the cash rate in June? Tens of thousands of Aussies took the Treasurer's advice to "shop around and get the best possible deal". Mortgage brokers around the country have recorded spikes in their home loan, investment loan and refinance borrower enquiries following the announcement.
The moral of the story? Now is the time to review your home loan. Here are four signs you may be overdue for a check-up.
You've been with the same lender forever
Interest rates are at historic lows and competition between lenders is high. That means there are plenty of red-hot deals out there, particularly given the recent cash rate cuts.
If you've been with the same lender for years, chances are you're probably missing out on a better deal elsewhere.
You have no idea what a redraw facility or offset account is
Most home loans nowadays come with money-saving features like offset accounts and redraw facilities. These tools allow you to save in interest and potentially pay off your loan sooner.
How they work
Offset accounts
With this set up, a transaction account is linked to your mortgage. Any money deposited is offset against your loan balance, reducing your interest payable. Example: you owe the bank $400,000 and you have $50,000 in the offset account. Interest will only be calculated on $350,000.
Redraw facility
With this loan feature, you can make extra repayments on your mortgage and save on interest. Best of all, you can still access the funds in future should you need them.
Your personal circumstances have changed
What's changed since you took out your mortgage? Are you earning more money? Have your living expenses changed? Do you have different financial goals?
All of these elements need to be taken into consideration when choosing the right home loan for your needs.
You're drowning in debt payments
If you're struggling to cover multiple debt repayments, debt consolidation could be the answer. This strategy involves refinancing your mortgage and using some of your equity to pay off the other debt.
The benefits are:
Home loan interest rates are lower than other types of credit
You'll only have one repayment to meet
You can spread the repayments out, so that they're more affordable
You may be able to make additional repayments and knock off your debt sooner.
While debt consolidation is not right for everyone (in some instances, you may end up paying more in interest over the course of the loan), it's at least worth investigating.
Like to know more?
If the alarm bells are ringing, we can review your home loan and outline whether it's still right for you. You may be better off with another loan that ties in with your current financial situation and goals. Please reach out – you have nothing to lose and everything to gain.