How do your living expenses affect your borrowing power?
You may be surprised to discover that how much you spend on day-to-day living can considerably reduce the amount you are eligible to borrow, even if you are a high-income earner. So, if you're planning to buy a home, it may be time to cut back on some of life's little luxuries and set yourself a strict weekly budget. Here's why.
Why do living expenses matter?
Under the National Consumer Credit Protection Act (NCCP), mortgage brokers and lenders are required to meet 'responsible lending' guidelines. These guidelines are designed to ensure a borrower can afford to make the repayments on their loan without suffering 'substantial hardship'.
That means by law, a mortgage broker or lender must ensure that you have plenty of money left over from your income to repay your loan after you have covered your regular financial commitments. So, we must perform a thorough living expense and income assessment to determine your true financial position before you can apply for a loan.
What are living expenses?
A living expense is anything you spend your money on. It could be a $500 monthly payment for your personal trainer, the $5 coffee you buy every morning on the way to work and everything else in between.
According to a survey by UBank in 2018, 86% of Australians don't know how much money they spend every month on their living expenses. If you don't track your purchases, it's very easy to spend more than you earn without even realising that it's happening – particularly if you buy everything on your credit card.
Tips for controlling your expenses
The MoneySmart Budget Planner is a great way to see where your money is going. It's available free from the ASIC MoneySmart website here.
The MoneySmart TrackMySpend app is another handy tool for budgeting and working out where your money is going. It helps you record your weekly household budget, nominate spending limits for different categories of expenses, separate your 'needs' from your 'wants', and kickstart your savings goals.
How do we perform a living expense assessment?
As your mortgage broker, we will provide you with a Needs Analysis Questionnaire to help you figure out your living expenses. It divides them into simple categories, so it's easy to see that you've remembered to include absolutely everything. These categories include: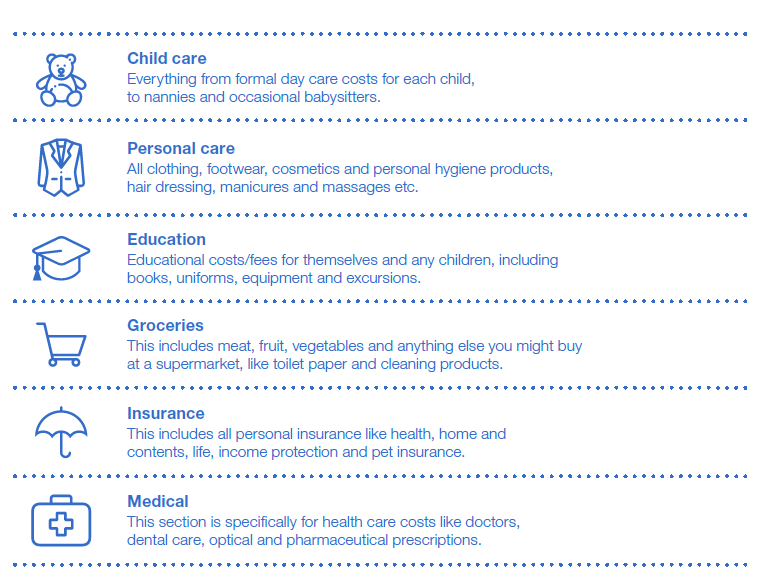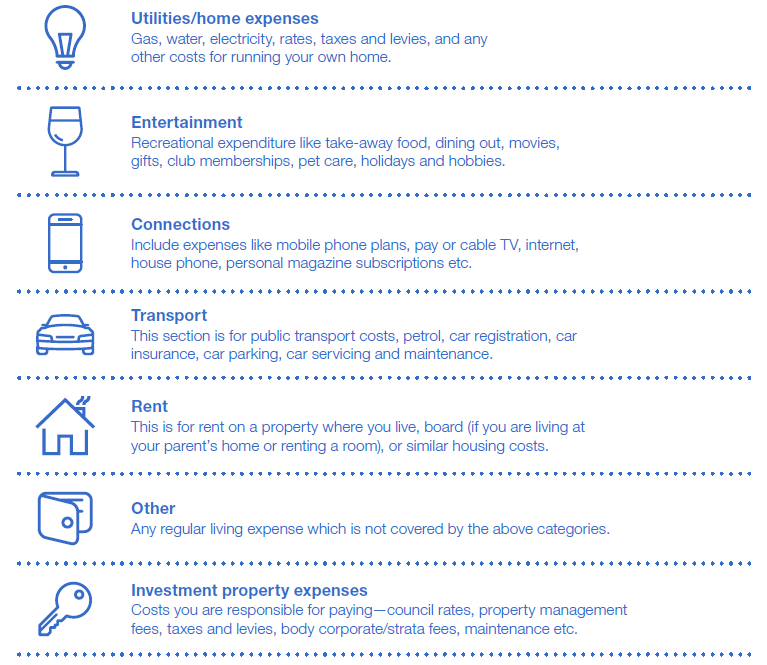 Frequently asked questions about living expenses
Is rent a living expense? You don't need to include your rental expenses as part of your living expense assessment if you're buying a home you intend to occupy.
How about debts? Any debts you have will be included in the liabilities section of your living expense assessment and loan application.
How do we check all of this? We are obliged to ask to see your transaction account and credit card statements, so we can check your spending corresponds to your declared living expenses. We must also ask for proof of income – like copies of pay slips for example. 
Cut back on your expenses to increase borrowing power
Whether you're considering purchasing your first or next home, it's important to have a solid understanding of your living expenses. Remember, a lender will only give you a loan for an amount that you can afford to repay – cutting back your everyday spending could help to increase this amount and improve your borrowing power.
We will be happy to run through your living expenses and help you find ways to budget and save to increase your borrowing power if you need help. We'll also prepare your loan application to maximise your chances of getting your loan approved the first time.
About The Author